Fling Game Controller for iPad
Have a Fling with your iPad
Fling is a tactile joystick for iPad. It gives you ultimate control over any game that has an on-screen joystick.
Fling's patent pending design provides auto-centering and force feedback.   Once you start gaming with Fling, you'll never go back.
An analog joystick for your iPad
Miss your console? Fling gives you the feel of an analog joystick, so your iPad games feel even more immersive.
When the screen illuminates, Fling melts away and becomes invisible, so you'll never miss any action on the screen.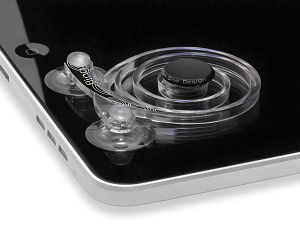 Lauded by game developers, Fling will increase your skill
iPad gaming is all about precision maneuvering, and Fling gives you this crucial advantage.
As you control a game with Fling, it pushes gently back towards the center position.  This haptic feedback guides and stabilizes your gameplay, making every action more accurate.
Should you tell your friends? Maybe, but definitely don't tell your opponents!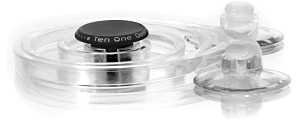 Inspired design, Engineered performance
Fling is constructed from silky-smooth anodized aluminum, and an incredibly tough, perfectly clear, and unusually flexible engineering-grade resin.
Why go through all that trouble? We're engineers at heart. Performance is everything. You'll understand the first time you try Fling.